Model 780 News Release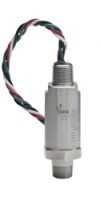 2011-05-02
New Viatran Model 780 Pressure Transmitter Is Ideal For Remote Oil & Gas Applications
HOUSTON, May 2, 2011 – Viatran, a Dynisco company, announces the availability of its low power Model 780 Pressure Transmitter for remote, severe-duty use in the oil & gas industry. The Model 780 provides accurate, dependable measurements of oil and gas wellheads and pipelines to help customers avoid productivity issues that can be caused by undetected out of service conditions. Given its ability to operate on low current, the Viatran Model 780 is ideal for use in remote areas with scarce power. It offers the oil and gas industry a cost-effective, reliable pressure measurement tool to easily monitor multiple wells or pipelines in the most challenging environments.
With its rugged, watertight design, Viatran's Model 780 has built-in 2,000 volt surge protection to virtually eliminate potential measurement loss in the event of an electrical storm. Model 780 is available in a pressure range of 300 to 15k PSI with a standard output signal of 1-5 VDC.
"We designed the Model 780 with a small size, but with big capabilities. It has been tested to withstand severe environmental conditions, such as 2000v power surges, shock and vibration - all common occurrences in the oil and gas industry," said Dave Shepard, vice president of Viatran's Industrial Segment. "Model 780 is an ideal pressure measure tool for applications such as wellhead casing and tubing pressure, pipelines, gas compressors, flow lines, and separators that require a high degree of reliability."
Viatran's Model 780, which has Intertek (ETL) approval for the U.S. and Canada, is available in non-incendive, intrinsically safe and explosion proof models. It is also NACE compatible. Viatran allows users to select from TURCK® connector, flying heads or jacketed cable to integrate the product better into their particular application.
For more information on the Viatran Model 780, please contact a Viatran application engineer at solutions@viatran.com or visit www.viatran.com. You may also call one of our Customer Service Representatives at 1-716-629-3800.
About Viatran
Viatran, a Dynisco company, has over 40 years of experience providing solutions for pressure and level measurement. Based in Wheatfield, NY, the company is a worldwide leading supplier of pressure transducers and transmitters in a wide range of industries, including automotive, oil and gas as well as the test stand, fluid power and food and beverage industries. For more information about Viatran visit the company's Web site at www.viatran.com.

About Dynisco
Dynisco is the leading provider of accurate, robust and reliable measurement and control solutions for extrusion and other plastics processes where pressure and temperature are critical. The company has manufacturing facilities in Massachusetts, New York, Ohio and Malaysia. Dynisco serves a diverse group of customers throughout the world, including OEM's, distributors and end users. For more information about Dynisco visit the company's Web site at www.dynisco.com.

Dynisco is part of Roper Industries, a market-driven, diversified growth company with trailing twelve month revenues of $2.2 billion, and is a component of the Fortune 1000, S&P MidCap 400 and the Russell 1000 Indexes. Roper provides engineered products and solutions for global niche markets, including water, energy, radio frequency and research/medical applications.
---