CAN-based Protocol Pressure Transmitters for Automotive Preproduction Testing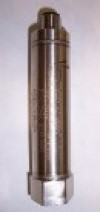 2011-01-06
Viatran Meets Engineers Needs for Small Sizes, CAN-based Prototol Pressure Transmitter for Automotive Preproduction Testing
Wheatfield, NY (Jan. 6): Viatran, a Dynisco company, today introduced a new high-accuracy digital test and controls transmitter that meets the needs of automotive engineers for a CAN- based protocol pressure transmitter that fits into small spaces for pre-production testing applications.
The slim 7/8 inch (2.2 centimeters) diameter pressure and temperature transmitter is now available in a digital version, CN422, that supports the CANopen communication protocol and device profile specification for embedded systems used in automation.
The small profile transmitter enables engine manufacturers to take more pressure measurements with greater accuracy and repeatability specifications, within a smaller foot print, to meet increasingly stringent emission standards. Typical applications for the CN422 include automotive, brake, engine and transmission test stands as well as leak detection.
In addition, the new CN422 sensor helps manufacturers streamline and improve the consistency of their operations for Six Sigma and lean manufacturing. The CN422 works on CANbus and enables a dramatic reduction in the wiring required to implement a system. Its inherent diagnostic capability allows it to be field calibrated, reducing downtime and maintenance costs.
"Our new smart CN422 is another example of Viatran responding with solutions to customers' real problems on the job," said Dave Shepard, Vice President of Viatran's Industrial Segment. "Our high performance controls solutions help customers improve their efficiency, reduce costs and add greater value to their businesses."
The CN422 adds advanced features, including autobaud detection, nodal detection, sensor trim objects and diagnostics. It is firmware field upgradable, making it flexible and customizable to customers' individual needs.
The Viatran transmitter also offers high performance with combined accuracy of better than ±0.08 percent in its standard configuration and better than ±0.04 percent with an optional linearity correction and temperature compensation.
About Viatran
Viatran, a Dynisco company, has over 40 years of experience providing solutions for pressure and level measurement. Based in Wheatfield, NY, the company is a worldwide leading supplier of pressure transducers and transmitters in a wide range of industries, including automotive, oil and gas as well as the test stand, fluid power and food and beverage industries. For more information about Viatran visit the company's Web site at www.viatran.com.

About Dynisco
Dynisco is the leading provider of accurate, robust and reliable measurement and control solutions for extrusion and other plastics processes where pressure and temperature are critical. The company has manufacturing facilities in Massachusetts, New York, Ohio and Malaysia. Dynisco serves a diverse group of customers throughout the world, including OEM's, distributors and end users. For more information about Dynisco visit the company's Web site at www.dynisco.com.

Dynisco is part of Roper Industries, a market-driven, diversified growth company with trailing twelve month revenues of $2.2 billion, and is a component of the Fortune 1000, S&P MidCap 400 and the Russell 1000 Indexes. Roper provides engineered products and solutions for global niche markets, including water, energy, radio frequency and research/medical applications.
---